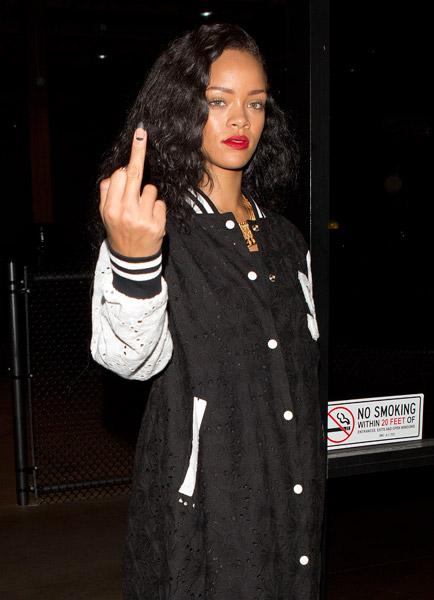 [© 2021 Reflex FM]

vorige overzicht volgende


27.08.2012
Wat Rihanna in het weekend heeft gedaan? Een van die dingen was karten bij Racer's Edge Indoor Carting in Burbank samen met Rob Kardashian en Lauren London.

Na een flink aantal rondjes te hebben gedaan vertokken ze naar de Playhouse nachtclub waar ze feesten tot vroeg in de ochtend.

Nadat Rihanna moe,dronken en aardig stoned in de ochtend de nachtclub verliet was ze ook nog even zo aardig haar middel vinger op te steken naar de fotograaf!




---
Meer over Rihanna:
01/04/2016 Rihanna dropt video voor single Kiss It Better
29/01/2016 Rihanna blij met al 1 miljoen downloads van album Anti
28/01/2016 Rihanna met Work ft.Drake hele week als Reflex Sensation
24/11/2015 Rihanna komt 11 juni 2016 naar Amsterdam Arena
24/11/2015 Rihanna dropt haar nieuwe album Anti op 4 december
14/05/2015 Dior klaar voor lancering reclamecampagne met Rihanna
03/11/2014 Rihanna zonder bloot terug op op Instagram
07/05/2014 Rihanna verlaat Def Jam en tekent bij Roc Nation
31/01/2014 Shakira dropt pikante video Can't Remember To Forget You
23/01/2014 Shakira breekt record met Can't Remember To Forget You
16/01/2014 Rihanna uit de kleren voor Voque Brazil
13/01/2014 Nieuwe single Shakira ft.Rihanna in premiere bij Reflex FM!

---